NEW PRODUCT ALERT!

Friday 7th April 2017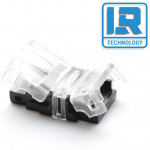 A revolutionary hassle free connector that will make any tapelight installation a quick and simple task.
With the Quick Clip there is no requirement to strip the connecting wire, simply place the wire into the Quick Clip and clamp shut. The same with the tapelight, with the Quick Clip, simply cut the tapelight at the cutting point, insert into clip and clamp shut.
The Quick Clip grips both the tapelight and connection wire giving a perfect connection that is strong and secure, no more flickering light from loose connections! No more soldering! No more hassle!
Available in 2-Pin (Single Colour), 3-Pin (Digital), 4-Pin (RGB) and 5-Pin (RGBW)
---